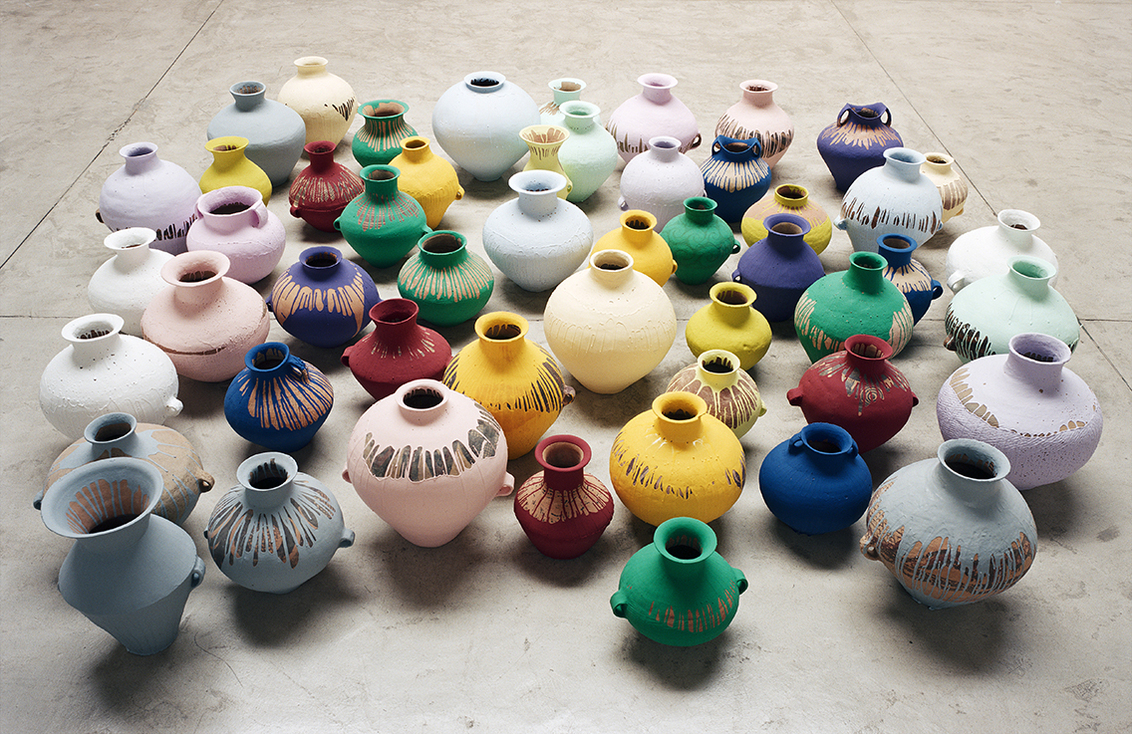 ---
Ai Weiwei and the
ambiguities
of artefact

Sparse thoughts – about cultural heritage and art oxymorons – under the pretext of a panoramic show by the Chinese artist
---
---
The end. As eschatology is the core theme of this first issue of Centro, I am assaulted by images of civilizations buried by time, devastated by History – this magazine is largely dedicated to investigate cities, after all.
Putting aside the role that made them circumstantially relevant and even necessary as a means of preservation of relics and artefacts, the major museums of history and cultural heritage (the place where, par excellence, we expect to find those remains of civilisations) have in common something fundamentally outraging: from pieces as little as detritus to the majestic Ishtar Gate, endless groups of treasures – often from ancestral civilisations from Middle and Far East – are secularly gathered and exhibited by organisations such as the National History Museum, Pergamon, British Museum and alike.
Given the popularity of these centres (for instance, the British Museum is the most-visited in the UK, and the second in the world), one might assume that few of their visitors experience a vivid sentiment of indignation that those massive collections of spoils (of war, or of mere cultural prominence), plundered with varied degrees of violence could incite (from the most obvious form, military offensives, to the wide-reach insidiously silent violence inherent to imperial or national power).
To visit these institutions is somewhat like visiting a cabinet of morbid curiosities or like desecrating a sumptuous tomb (excitingly enough, they often have also sarcophagi); one may enter series of galleries in which indices of long-expired foreign wealth are carefully displayed, appropriated under the pretext of heritage conservation, exhibited as the icons of human culture which they are, and tacitly converted into evidence of the multicultural concern of socially-indebted wealthy countries -the last empires, apparently.
Last autumn, not too far southeast from the British Museum in London, the Royal Academy of Arts was exhibiting an ambitious panoramic solo show by the Chinese artist Ai Weiwei, curated by Adrian Locke and Tim Marlow.
For those experiencing the diffuse wrath aforementioned, the visit could be a soothing thing, a "decompression" for the experience at the British Museum: the offence taken at the view of the reliquary turned into a trophy for a Western dubious cultural consciousness seems avenged at the view of relics (many of them, by the way, from the very same era and civilisation) that Ai Weiwei literally lacerates to build his works. A largely ambiguous satisfaction, of course.
Nothing like a precious Qing Dynasty wood column carefully twisted as part of a sculptural installation, and Neolithic vases rudely painted,with a palette simplicity that makes one think of North-American Allan McCollum, to appease the fury of the critically charged observer. The simple sharpness of Furniture (2002) and Coloured Vases (2015) series is sweeping.
---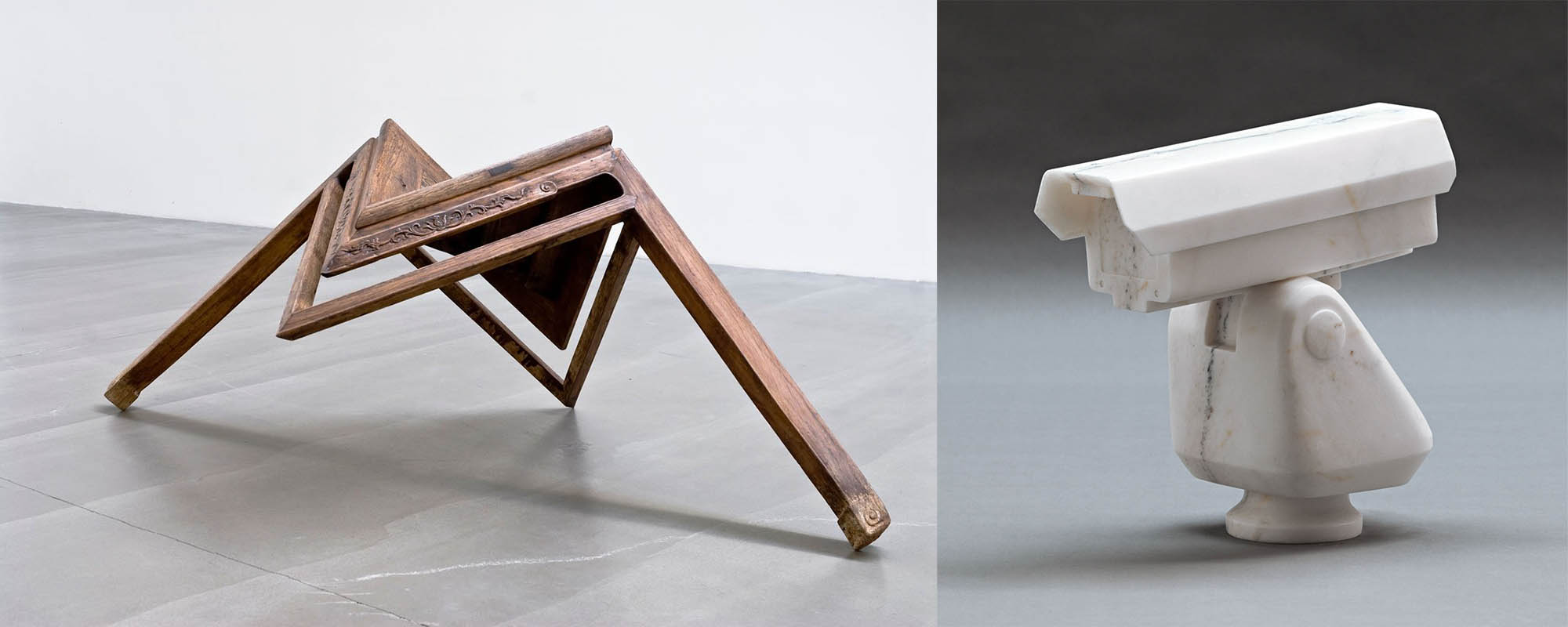 To interpret Ai Weiwei's use of those antiques as a mere peculiar form of iconoclasm, however, would be a depleting reduction. There is a disquieting ambiguity underneath the procedure: on one hand, by destroying relics (or, more precisely, to pervert their regular state), he seems to propose the death of cultural identity and, therefore, to pose himself (and, by extension, the viewers) critically before the placatory role of the so-called mainstream culture (of which museums like the British Museum and Berlin's Pergamon represent the ultimate institutionalisation).
This very same mainstream culture, nevertheless, is built of individual manifestations – the extreme conclusion, therefore, is that Ai Weiwei embraces the violence of the oppressor, since he also annihilates the human expression.
Unlike the Chapman brothers, for example (the artist duo that intervened on original engravings by Goya), Ai Weiwei does not employ artworks, but artefacts only.
It suggests a wider approach: it is not only about re-creating the (ontological or symbolic) meaning of those objects; nor to appropriate their virtual poetic value accordingly to the time they were made (i.e. a provocative anachronism).
What he seems to do is, at the same time, to affirm the transcendence of the object and to criticise its subsistence. In a historical correlation, the Chinese millenary tradition is not suggested to the public as an alternative to the communist regime repression (nor, a fortiori, vice-versa).
The Royal Academy's press release for the show states that the artist defies conventions of value and authenticity in Modern China. One might notice, albeit, that such a challenge takes place rather circumstantially, as Ai Weiwei seems to aim beyond, and in more universal terms: Ai Weiwei exposes the wounds of his home-country using its own cultural treasures, he transfigures relics and ends up questioning: What's more worthy – an object or a person? Art,as a commodity, or spirit?
Even when he is less subtle, he doesn't cease to be clever and honest, such as when he creates dioramas (S.A.C.R.E.D., 2013) of his captivity in a slightly self-condescending and literal fashion, or in a provoking sculpture in marble, shaped as CCTV camera:Surveillance Camera, 2013 – a sculpture that may incidentally resemble the seductive precision of Brazilian Iran do Espírito Santo's work. But where the latter invites us to entertain the pure form of the objects and the beauty of the prosaic, Ai Weiwei seems to comment wryly on turning an icon of our meanness into a valuable museum piece.
---

When Ai Weiwei acts more openly as, let's say, an activist, his work may seem less multifaceted. But the moral consistency does not stand in the way, as he manages to ally aesthetical delight with political discourse without damage on either side: the work Straight (comprising installations and video) turns out to be one of the most touching and powerful passages in the show. In it, Ai Weiwei commemorates the thousands of people who died in Sichuan's 2008 earthquake, especially children who died in a school built by the government with crass engineering oversights.
Displayed alongside a video that records the process of research and construction of the work, hundreds of iron beams bought as wreckage from the site of the destroyed school were meticulously rectified and organised in a rectangular area, in which those nine tons of metal insinuate waves of a tide, as visually suggestive of the disaster as the certain aura they emanate . Long lists name the victims of the catastrophe, framed around the installation, which carry a contrite drama. The most trivial substitute for the presence of a person – their name – seems to invite them in, to contemplate. To deploy the vestiges of a great tragedy in such a meticulous and beautiful way provides, rather than a provocation, a solemnity that betrays the facts themselves: That is the final result of a cycle of telluric convulsion and political domination, of seismology and greed; the product to which we look without answers, but that adds vehemence to our questions.
Any hype, any foolhardy unanimity, may give rise to suspicion, as does any overwhelmingly grand reputation attained amidst a political altercation covered widely by the press. Many might base their reservations about the Chinese artist on that, believing that he might be surfing, maliciously, the wave of attention he has received since he was censored and imprisoned.
And while there is certainly no shortage of hype around Ai Weiwei, there is an artist there – and what an artist. That he has become so ubiquitous (and so expensive) is merely a consequence of a scene that is lacking output with this much to say, and saying it so efficiently.
---

---
Marcio Junji Sono,
holds a degree in philosophy from University of Sao Paulo, and works for over 13 years in communications for the arts sector.
---
---